Hare, moon magic and swift running and wide eyes and long slender limbs that dart this way and that and flash of white tail bounding over the land. Hare is magic and music and beauty. She is my latest obsession, having graduated in some way from a white fox I now paint and draw hares.
Who remembers Masquerade? Those of you in ireland and england certainly might. I remember the hare and the illustrations though I was too young when it came out to get involved in the quest.
The first image that captivated me was Albrecht Dürer. The study of a young hare. I think it was more the reality of the drawing that got me first, at an age when drawing like that seemed an impossibility to me and now that I see it after many years it seems less somehow, like I imbued it with a magical presence and untouchability when I was young and that impression stayed with me. It is still beautiful and it is a quiet hare that he drew.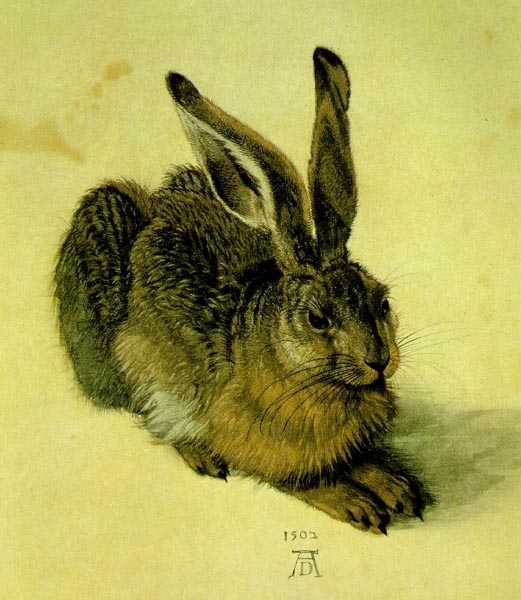 My own image of a hare. This is quite large, around 3×4 feet and I like it. It is still sitting in my work room waiting for the sides to be painted and for me to sign it.
a beautiful soft hare sculpture that caught me on etsy by dragonhouseofyuen
a nice image by ElleJW
and lastly, cause my two dogs like nothing better than a charge across the countryside after hares they have not a chance in hell of catching this doggy collar! by fairytailcollars